Synonyms:
2-propenoicacid,2-methyl-,3-(triethoxysilyl)propylester; 3-(triethoxysilyl)propylmethacrylate;methacryloyloxypropyltriethoxysilane; 3-(triethoxysilyl)propyl2-methyl-2-propenoate;(3-triethoxysilyl)propylmethacylate; gamma-methacryloxypropyltriethoxysilane;

Formula:
CH3CCH2COO(CH2)Si(OC2H5)3

Chemical Structure: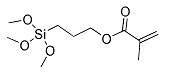 Description:
Colorless transparent liquid. Easy soluble in a variety of organic solvents, easy hydrolysis and condensation to form polysiloxane, easy polymerization under overheat illumination and the existence of peroxide.

Physical and Chemical Properties
| | |
| --- | --- |
| Product Code: | CY-571 |
| Chemical Name: | 3-(Methacryloyloxy)propyltriethoxysilane |
| CAS no: | 21142-29-0 |
| EINECS no: | 244-239-0 |
| Molecular Weight: | 290.43 |
| Boiling Point: | 112°C/5mmHg |
| Density(ρ20, g/cm3): | 0.985±0.005 |
| Refractive Index(n25D): | 1.427±0.005 |
| Purity: | 98% |

Main Application Industries:
Glass fiber; Adhesive Promoter; Resin; Filler

Application:
CY-571 is suitable for various complex shapes, all densities of polyethylene and copolymer; suitable in the big processing craft latitude, filled composites and so on, has the high application temperature, outstanding properties of compressive resistance decomposition, wear resistance and anti-shocking; graft to principal chain of polymer, thus modify polyethylene and other polymers, making its side chain with this ester base, as the active spot of lukewarm water crossing linking.
CY-571 can be used in glass fiber, to effectively improve the mechanical property of fiberglass products, including bending strength, tensile strength and the adhesion of substrates and many kinds of resins, including thermosetting, thermoplastic, etc.
CY-571 is used as the additive of printing ink and coating, to enable the printing ink and the paint film to have fine hardness and radiance.
CY-571 can be used to enhance the adhesion strength of optical fiber coating.
As the strengthening agent and the crossing linking promoter, CY-571 is widely used in compound materials, coating, printing ink, glue and sealing materials, and also serves as resin modified additive and enzyme fixing agent.
As crosslinking agent, CY-571 may be used to crosslink silane with polyethylene electric cable and tubing. In wire and cable industry, CY-571 can improve consumption factor and specific inductance capacitance when used to treat EPDM system stuffed by pottery clay and cross-linked by peroxide.
Polymerizes with vinyl acetate and acrylic acid or methyl acrylic acid monomer. These polymers are widely used in coating, adhesive and sealing agents, CY-571 provides excellent adhesion and durability.

Packing and Storage:
Must be sealed and kept in cool and ventilated place, away from water, heat and fire.

Packing:
5L, 10L, 25L, 200L PE drum or 1000L IBC container.
Customized service is acceptable. Please specify when order.