Concrete structural durability deterioration will lead to extreme reduction of the structural reliability and safety. The rebar corrosion is the main reason of durability deterioration. Because of the rebar corrosion, the concrete structure cannot be repaired and demolition in time, which will cause huge economic loss. Excellent hydrophobicity performance of coupling silane can effectively prevent the probability and speed of rebar corrosion caused by chloridion penetration.

Impregnation of Silane coupling agent can significantly improve the durability, and has been approved by national authorities based on the characteristics of advanced technology, easy operation, safety and durability, and environmental friendliness.

The strong hydrophobicity of octyl could transform hydrophilic concrete surface and pore wall into hydrophobicity which could effectively.stop the penetration of harmful materials.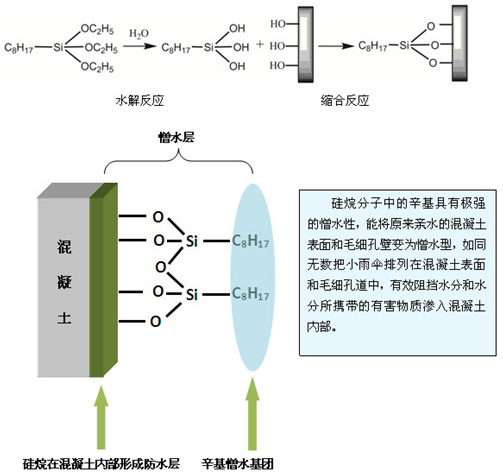 The advantages of fairly application of Silane impregnation technology is as below:
1. Excellent water repellent performance, could reduce more than 90% concrete water absorption.
2. Excellent repellent coating materials with good air permeability performance.
3. Do not change the appearance of the buildings, suitable for the projects with special requirements on appearance.
4. Outstanding alkali resistance and durability, reduce repair frequency and cost.
5. Effectively protect the concrete surface from corrosion (caused by acid rain and other environment factors) and mould.